Final Touch Entertainment's Trivia Game Show
Serving Cleveland Heights, Ohio!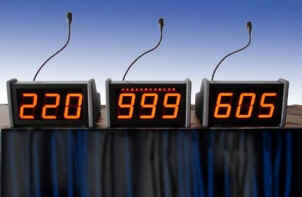 Final Touch Entertainment's online home for all of our Game Show Trivia information. Bringing only the best in entertainment to Northern Ohio, we have been entertaining in clubs, bars, lounges and weddings since 1978.
You've watched Jeopardy for years. More recently, Who Wants To Be A Millionaire has taken the country by storm, dominating the TV ratings each night it airs. Often times, viewers of these shows say to themselves "these questions are easy, I should be on that show"! Well, step up to the plate, because Final Touch Entertainment's Trivia Game Show is just the thing you have been waiting for!
Our mailing list will keep you up to date with all of our happenings, when there is a new establishment and also when your establishment is having TRIVIA NIGHT or another special night! What better way than to get up in the morning and look forward to work knowing what you are doing that evening? Our email notices will let you know where we are at and when. They will also let you know of the happenings at your favorite adult beverage establishment and also who the champs are of the night before! Who is defending and who is ready to take on all challengers. Join our Final Touch Fans and be kept informed of this and many other items such as where we are at with Music Trivia, Karaoke Nights and Times and more!
FOR ANY TRIVIA ENTERTAINMENT NEEDS!
CONTACT FINAL TOUCH ENTERTAINMENT!