Las Vegas Casino Nights in Shaker Heights, Ohio!
Final Touch Entertainment has everything you need to have a great Texas Hold'em Tournament right in your 501(c)(3)'s Non Profit Venue. With many years of experience in entertainment, Final Touch Entertainment holds the nicest, best ran tournament East of Las Vegas and West of Atlantic City.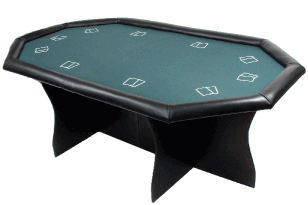 Our tables seat 10, we run the tournament just like you are at Binion's Horseshoe Casino in Las Vegas. Complete with announced blinds and antes, prize pool, count down timer to next break, next raise in blinds everything you will need to operate just like the pros. We even keep track of Players and where they move when their table loses players and you need to combine tables. We even keep track of your prize pool and allow you to update the payout at the end of the re-buy round.

Our special Poker Chips allow us to keep outside chips from entering the game, To full security of players and funds, we provide everything you need to run a successful, fun, tournament. Our chips are unique to our services, we run with over 6 different combinations of chips determined at a random draw to see the color scheme we will be using for a particular event. Making everyone have a good time without the worries of fraudulent or counterfeit chips in play.
We keep you legal, that is, we know the laws when it comes to gaming in Ohio and we follow the law and won't allow you to get in trouble because of your fund raising activities.
Final Touch only interviews in person to handle your Texas Hold'em Tournament. We do require many items and agreements to protect ourselves and to stay within the guidelines of the State of Ohio. We only ask, that if you are interested in our services, that you set up an appointment and be ready to reserve our management services for your next event.
For those of you who wish to be contacted by Final Touch as to when and where we have Texas Hold 'em Tournaments, Please visit the Final Touch Fans page and become a member!
FOR YOUR TEXAS HOLD'EM HOST SERVICES NEEDS!
CONTACT FINAL TOUCH ENTERTAINMENT!